---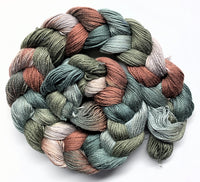 ** 100% Mulberry Silk Collection** This is a lovely One-Of-A-Kind hand painted warp. These are not repeatable!

Silk Warp #24, one of a kind. Get it now!

5/2 Mulberry Silk
4 1/2 Yards/150 Ends

1250 yards per pound

Suggested Sett: (set at 12epi is 12 1/2 inches in reed)
- 10 epi for tabby
- 12 epi for an even twill
- 14 epi for a warp faced twill

Hand dyed items will always be unique and the colors will blend together into other mixed tones. I try to get the colors on the screen to look like the actual warp but as monitors will vary the colors might not be exactly as pictured. If you are unhappy with the yarn for any reason I do offer returns as long as the warp is in the same condition as when I shipped it. I do not refund your return shipping.