---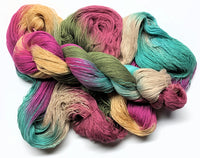 Hand-Dyed 8/2 - 50% Tencel and 50% Cotton skeins by Carr Park Artisans.
This blend gives you the best of both worlds, the sheen and cooling properties of tencel and the squish and strength of cotton.  Perfect for towels, scarves, wraps and clothing.

This lovely skein is the color of the fall garden with mums, dry grass and greens.  Dyed in the Fall Floral colorway using professional fiber-reactive dyes.
This matches the Fall Floral warp also available on this site.

Each skein is custom hand dyed measuring 1000 yards. I have accounted for shrinkage when I wound the skein so you should receive at least 1000 yards.

8/2 Tencel & Cotton at 3360 yds/pound

Hand dyed items will always be unique and the colors will blend together into other mixed tones. I try to get the colors on the screen to look like the actual yarn but as monitors will vary the colors might not be exactly as pictured. If you are unhappy with the yarn for any reason I do offer returns as long as the skeins are in the same condition as they were when I shipped them. I do not refund your return shipping.

As with any dyed product there could be some loose dye when you first wash your project. I have done my best to rinse the dyed yarn completely so for me the water is clear. I suggest you hand wash in cool/cold water with a bit of fiber wash the first time.