---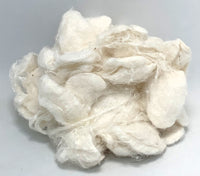 Mulberry Silk Cocoons are the degummed cocoons prior to any other processing. This is a white toned silk.  The worms have been removed and the cocoons have been washed to remove the sericin.  Use these by fluffing them for your spinning or felting projects.  

Dye these yourself, they take colors beautifully.  Because the silkworms have been removed the cocoons include all lengths of fibers and will create a beautiful slubby yarn if spun.  
Mulberry silk comes from the Bombyx mori which is the domestic silk moth.  The preferred food is the white mulberry leave which is what influences the pure white color of the cocoon.  They have been bred to live in captivity and over the years through selective breeding have lost their ability to fly.  

Sold in increments of 1/2 oz.  

I try to get the colors on the screen to look like the actual fiber but as monitors will vary the colors might not be exactly as pictured. If you are unhappy with your purchase for any reason I do offer returns as long as they are in the same condition as they were when I shipped them. I do not refund your return shipping.

Please hand wash in cool/cold water with a bit of soap or fiberwash.