---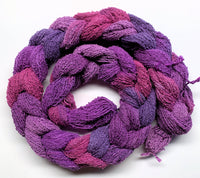 NEW - Warplet!  100 ends to give texture and enhance your projects.
Dyed by Carr Park Artisans using professional dyes. 
This is a lovely hand painted weaving warp which has been pre-wound for you from Unmercerized Cotton Boucle yarn.
The color is "Plum Noir" which is perfect for the purple lovers.  This Cotton Boucle takes dye color vividly and are perfect to add some sizzle into your projects.
This works very well with 8/2 cotton and because of the texture has some ability to adjust with the setting.  Thread the same as 8/2 or 6/2.  This will work with both.
4 1/2 yards, 100 Ends

100% Unmercerized Cotton Boucle, 2300 yards per pound
Suggested sett:
- 12-18 epi for tabby
- 14-18 epi for an even twill